UPCOMING events and exhibitions
AUSSTELLUNGSERÖFFNUNG ZUR FLUT 2021
DAUERAUSSTELLUNG IM KM51 - DAS ERFTMUSEUM - NATURPARKZENTRUM GYMNICHER MÜHLE
MIT DER VIDEODOKUMENTATION "DIE FLUT - DER FILM"
EIIN DOKUMENTARFILM IN KOOPERATION MIT 
EDUARD STARCIC UND 
THOMAS - EßER - BERUFSKOLLEG AUS EUSKIRCHEN
Ab dem 11. November 2023
PAST events and exhibitions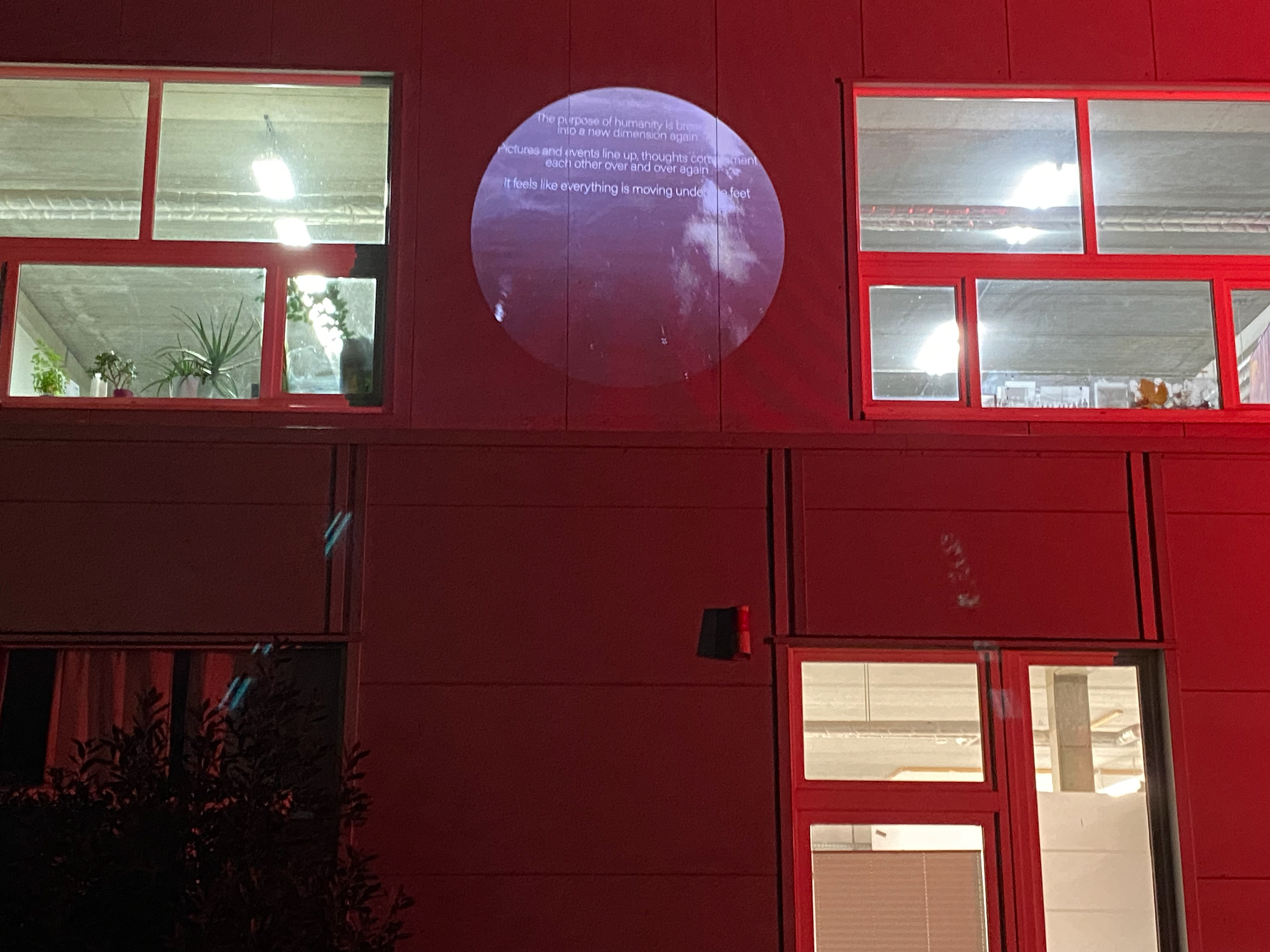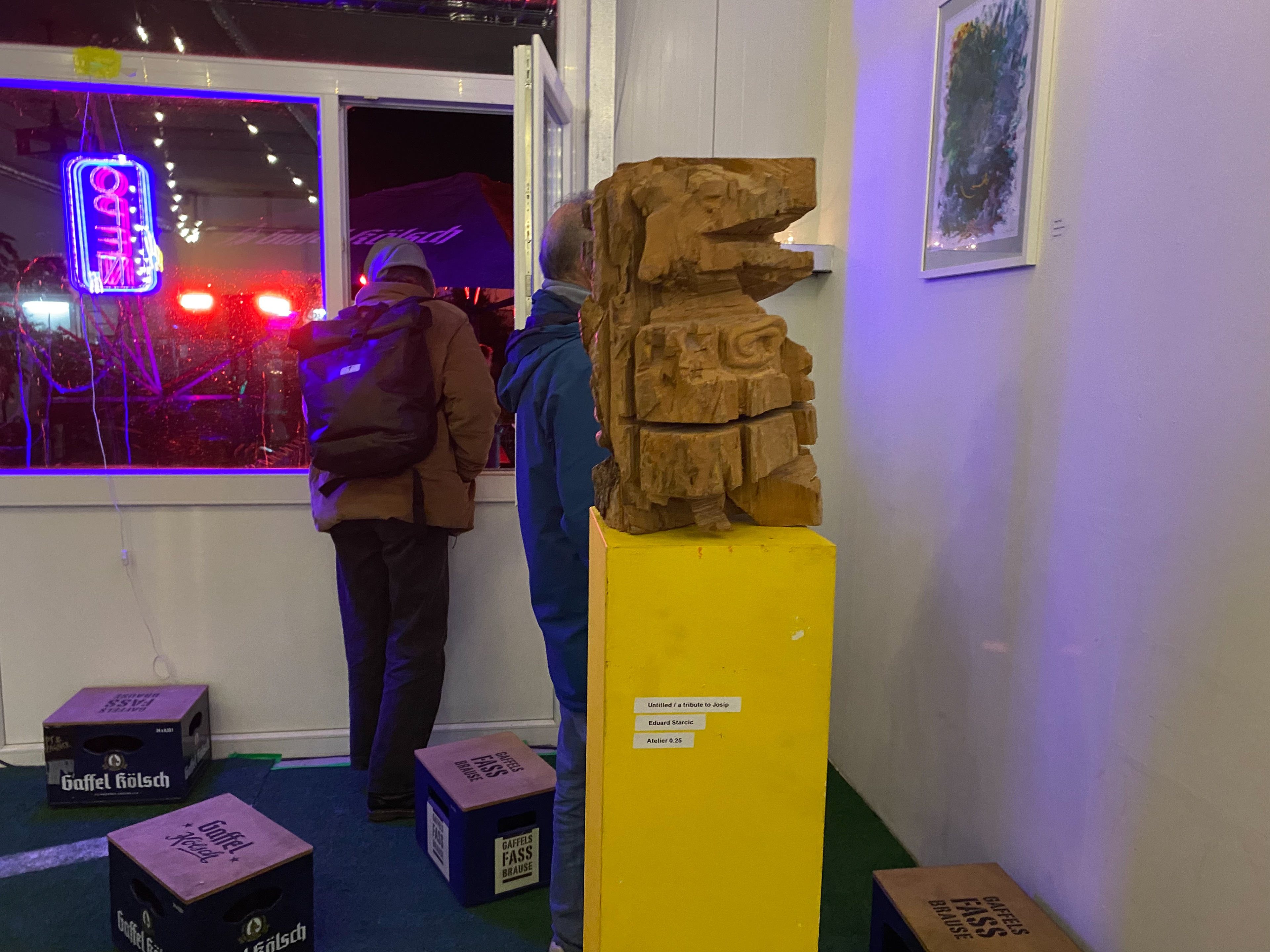 DIE KÜNSTLER*INNEN
Sebastian Bartel, 
Michael Baumann
, 
Andreas Bausch
, 
Detlef Bock
, 
Philipp Dreber
, Antonia Gruber, Moritz Grund, 
Ben Hammer
, 
Monika Heimann
, 
Guillermo Federico Heinze
, Nathan Pramudiya Ishar, Angela Junk-Eichhorn, Simone Kieltyka, 
Sumi Kim
, Tanja Kodlin, DJ Krachim, 
Karl-Heinz Kreuzberg
, Julla Kroner, Avshalom Latucha, Gal Levinson, 
Marianne Lindow
, Rebekka Löffler, Tina Löhr, 
make a move collective
, 
Eveline Markstein
, 
Veronika Moos
, 
Beata Obst
, Leila Orth, Jennifer Pint, Natalie Port, Philipp Reuver, Britta Ries-Drygall, 
Tomoko Sato
, 
Julius Schmiedel
, Stefan Seelge, Marie Semrotzki, Jonas Schiffauer, Michael Schütz, 
Vato Sikharulidze
, Josefine Luka Simonsen, Dror Shoval, 
Eduard Starcic,
Sanaz Starcic,
Stjerne
, Mila Stoytcheva, 
Caroline Streck
, 
Stulle & Peter
, 
Ingeborg Thistle
, Yoana Tuzharova,  Liza van Brakel, 
Annette Wesseling
, Natalia Wehler, Anne Weyler, Torsten Wolber, 
Michael Wolke
, Mio Zajac und 
Ali Zülfikar
.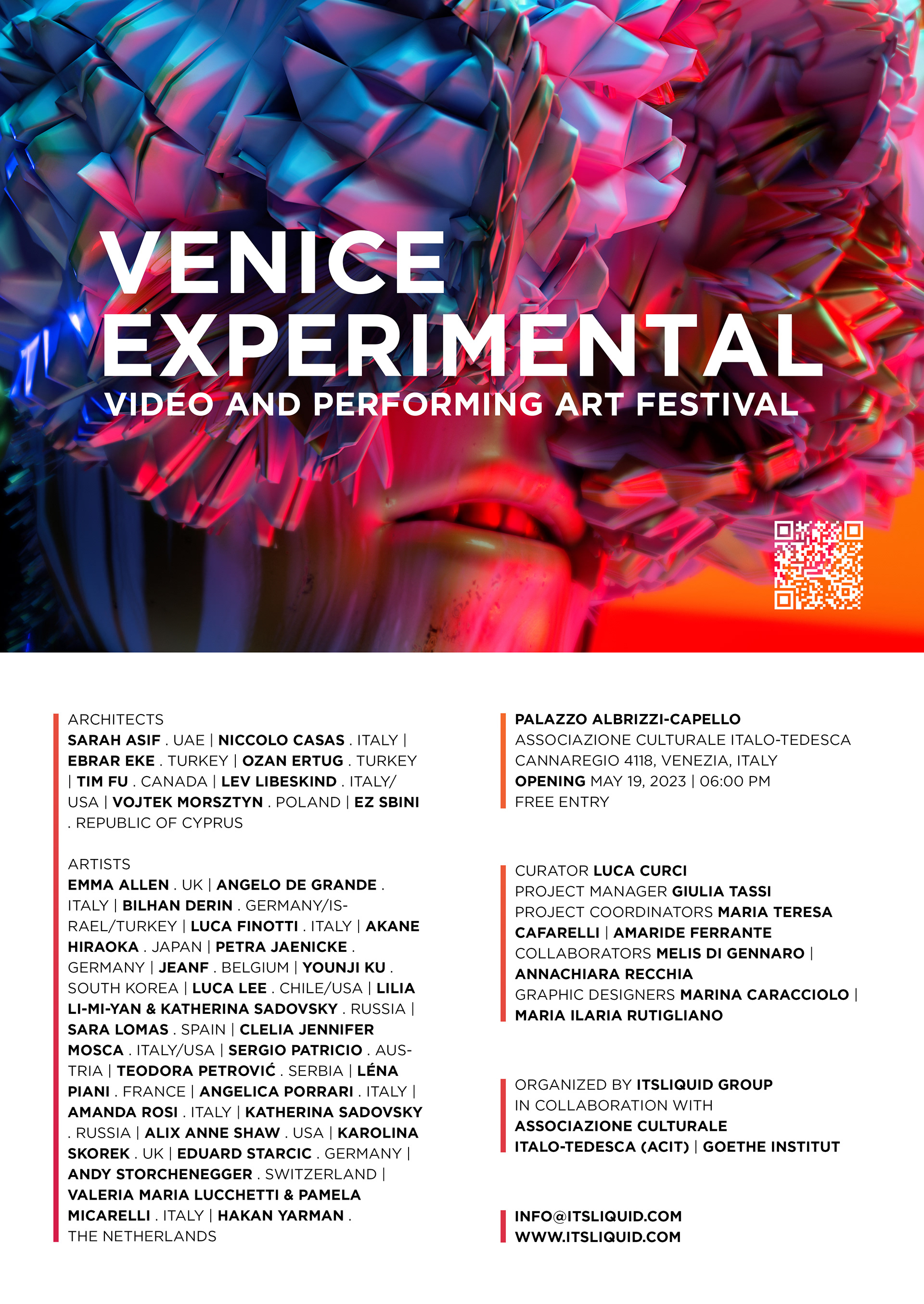 Das VENICE EXPERIMENTAL VIDEO AND PERFORMING ART FESTIVAL 2023 konzentriert sich auf die Beziehung zwischen Körper und Raum und die Hybridisierung zwischen Identitäten und kulturellen/physischen/sozialen/städtischen Umgebungen in der heutigen Zeit. Menschen, Hintergründe, Gesellschaften, Fortschritt, Städte und all ihre Beiträge schaffen hybride Identitäten, die sich gegenseitig modifizieren und in der Absicht vermischt werden, eine bessere Welt zu formen.
Der menschliche Körper ist ein sich veränderndes System, das uns mit anderen Körpern und Räumen verbindet, um die umgebende Realität wahrzunehmen: ein starkes Kommunikationssystem mit einer eigenen Sprache und unendlichen Ausdrucksmöglichkeiten.
Nach vielen Jahren der Forschung und Ausstellungen über die Entwicklung der Identitätsidee bitten wir Künstler, ihre persönlichen Geschichten durch Videos und Performances zu teilen, um eine Verbindung zwischen ihrer persönlichen Erfahrung und dem Publikum herzustellen und uns zu erzählen, was die Geschichten und Gründe sind unter ihren Werken.
VENICE EXPERIMENTAL VIDEO AND PERFORMING ART FESTIVAL 2023 is focused on the relationship between body and space, and the hybridization between identities and cultural/physical/social/urban settings in contemporary times. People, backgrounds, societies, progress, cities and all their inputs create hybrid identities, modifying each other and being mixed in prospect to shape a better world.
The human body is a changing system that connects us with other bodies and spaces to perceive the surrounding reality: a strong communication system with its own language and infinite ways of expression.
After many years of research and exhibitions about the evolution of the idea of identity, we ask artists to share their personal tales through videos and performances, to create a link between their personal experience and the audience, to tell us which are the stories and reasons beneath their works.
KUNST(FREIHEIT)
KUNSTMANIFEST
QUARTIER AM HAFEN -Köln / Q18
Am 20.04.2023, um 18:00 Uhr 
Klang- und Tanzperformance, Filmvorführung, Diskussion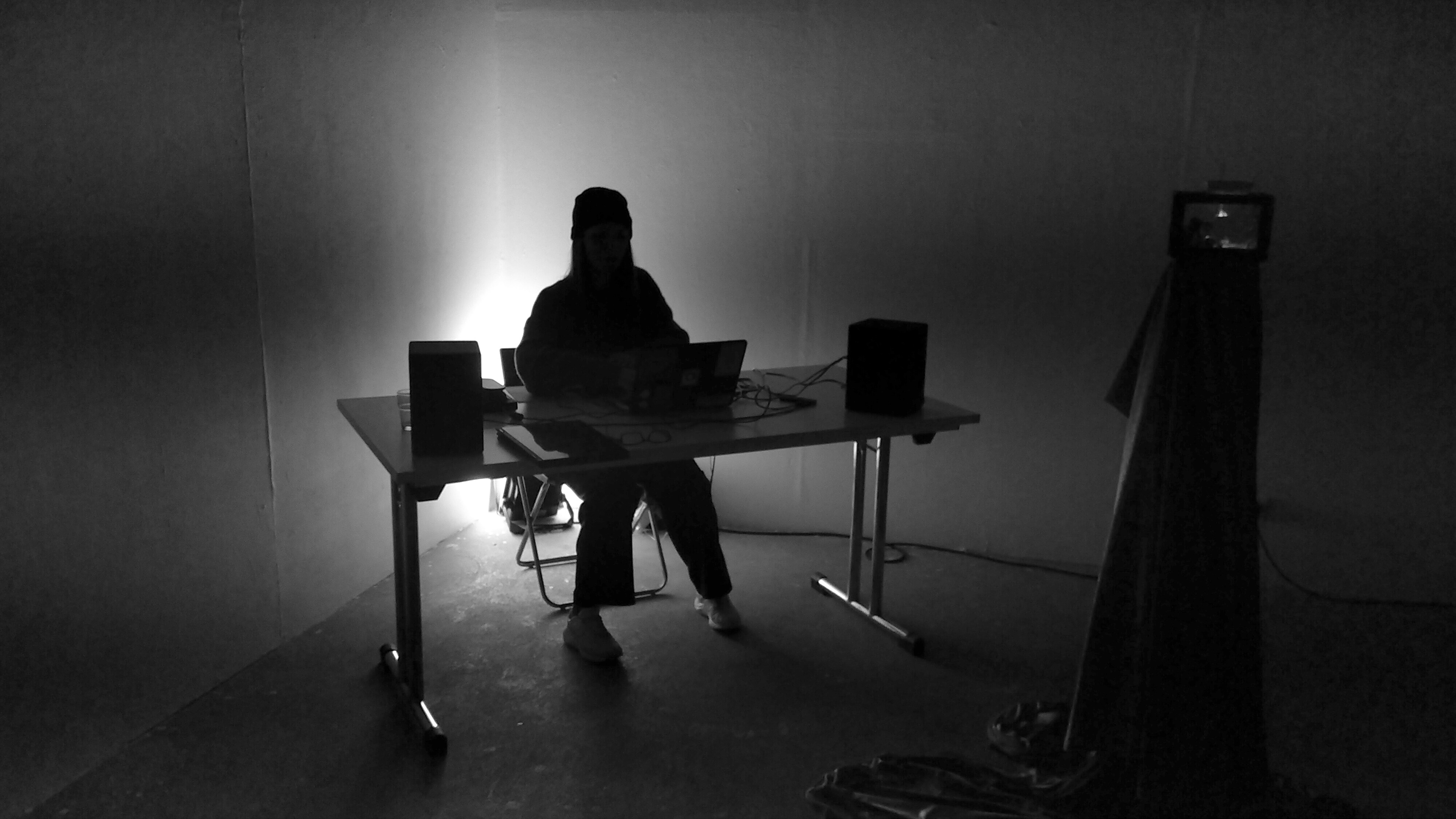 Wir stehen in der Gesamtaufgabe der zu gestaltenden Gesellschaftskultur. Und insofern können wir jetzt als Menschen einfach mal anfangen, das Bild zu zeichnen, ein paar Umrisse herauszuarbeiten, wie die Gesellschaft der Zukunft aussehen soll.
(Rainer Rappmann, FIU Verlag)
Inhalt des Abends: 
Die Ausschnitte sind als Resultat einer 3-jährigen Recherche von Eduard Starcic über das Wesen "Kunst". Sie beinhalten Interviews mit Kunstschaffenden und Experten, die mit Kunst täglich Berührung haben. Als Kunstschaffender und Medienpädagoge sieht Starcic die Kunst als den wesentlichen Baustein in der Gestaltung einer Gesellschaft. Dabei stützt er sich auf 
"Erweiterten Kunstbegriff"
 von
Joseph Beuys
und stellt sich die Frage, ob diese Herangehensweise heute ihre Berechtigung hat. 
"Ich träume von Kunst, als hätte sie das Bewusstsein aller Menschen in sich verborgen. Sie verkörpert in meinem Traum die gesamte Zeit der Menschheit." Eduard Starcic
Gesprächsrunde / Publikumsgespräch.
Welche Position zwischen Politik, Wirtschaft, Wissenschaft und Religion/ das Mystische gehört der Kunst? Welche Werte über Kunst und Gesellschaft vermitteln uns die revolutionären Gedanken von Friedrich Schiller und Joseph Beuys? 
"Die Revolution ist nicht künstlerisch, aber die Kunst kann
revolutionär sein." 
Jean-Luc Nancy

We stand in the overall task of shaping the social culture. And in this respect we as humans can now simply start to draw the picture, to work out a few outlines of how the society of the future should look like.
(Rainer Rappmann, FIU Verlag)
Content of the evening:
Sound and dance performance (
Nathalie Brum
, 
Marje Hirvonen
)
Screening / presentation of excerpts from the film in progress - 
The self-portrait of "je ne sais quoi"
, by Eduard Starcic
The excerpts are the result of a 3-year research by Eduard Starcic on the being of "art". They contain interviews with artists and experts who come into contact with art on a daily basis. As an artist and media educator, Starcic sees art as the essential building block in shaping a society. In doing so, he relies on
Joseph Beuys
,
"expanded concept of art"
and asks himself whether this approach is justified today.
"I dream of art as if it had the consciousness of all people hidden within it. In my dream it embodies all of humanity's time." 
Eduard Starcic
Discussion round / audience discussion.
Which position between politics, economy, science and religion/ the mystical belongs to art? What values about art and society do the revolutionary thoughts of Friedrich Schiller and Joseph Beuys
convey to us?
"Revolution is not artistic, but art can be revolutionary." 
Jean-Luc Nancy
05.11.202, 7.15 p.m.  
Museum 
Night Cologne
 at 
Quartier am Hafen, Köln
Eduard Starcic Presentation of the film (in progress):
The self-portrait of the "je ne sais quoi" + audience discussion
SCREENING / ONLINE PREMIERE
DIE FLUT-DER FILM
(DOKUMENTARFILM)
27. Juni 2022
, 13:41 Uhr, Filmscreening über YouTube Plattform
In der etwas über 30-minütigen Dokumentation kommen viele Menschen zu Wort, die in der Flutnacht im Kreis Euskirchen eine wichtige Rolle spielten. Sie schildern uns eindrücklich, wie sich die Lage nach und nach verschärfte und welche Konsequenzen das für uns alle hatte.
Im Auftrag des Thomas-Eßer-Berufskollegs
SCREENING / ONLINE PREMIERE
THE FLOOD THE MOVIE
(DOCUMENTARY)
June 27, 2022, 1:41 p.m., film screening via YouTube platform
In the documentary, which lasts just over 30 minutes, many people who played an important role in the Euskirchen district during the flood night have their say. They give us an impressive account of how the situation gradually deteriorated and what the consequences were for all of us.
On behalf of the Thomas Eßer Vocational College
Starcic beschäftigt sich in dieser Arbeit mit dem Thema "Isolation", die als Nebenprodukt der dauerhaften sozialen Distanz, mit der das Individuum seit dem Ausbruch der Corona konfrontiert ist. Der Umgang mit dieser Situation und die inneren seelischen Zerwürfnisse einzelner Menschen durch Selbstabschottung und Isolierung von der Gesellschaft, wurden von dem Künstler als unzählige historische Kämpfe jedes einzelnes Individuum mit der Isolation empfunden...
weiterlesen
In this work, Starcic deals with the topic of "isolation", which is a by-product of the permanent social distance that the individual is increasingly confronted with since the outbreak of the Corona virus. Dealing with this situation and the inner psychological quarrels of individual people through self-seclusion and isolation from society were perceived by the artist as countless historical struggles of each individual with isolation...
continue reading
April 17, 2021
Dortmund Opera House